Total Weight Off by Professional Botanicals
TOTAL WEIGHT OFFTM | Appetite, Fat Metabolism and Energy Support
by Professional Botanicals

Doctor Formulated as a Product with Fiber and Other Nutrients to Maintain an Overall Healthy Weight.

898175001973
This product qualifies for quantity discount pricing.
(
what's this?
)
TOTAL WEIGHT OFFTM | Appetite, Fat Metabolism and Energy Support
by Professional Botanicals

Doctor Formulated as a Product with Fiber and Other Nutrients to Maintain an Overall Healthy Weight.

An all-in-one Weight loss support that functions as an effective appetite suppressant, supporting increased metabolic function and stimulates fat burning and cholesterol metabolism. Also known to support balanced hormone production for improved weight loss.
Total Weight Off supports two things: a feeling of satiety (sensation of feeling full) and an active energetic lifestyle. The combination of soluble and insoluble fibers, and energy-producing plants and ingredients, combine to maintain optimal health.
Total Weight Off is a synergistic combination of ingredients that support the body's ability to burn more calories, stabilize blood sugar levels through proper insulin utilization,support liver function, and enhance fat and carbohydrate metabolism. The combination of herbs found in this formula play an important role to suppress the appetite, reduce cravings, boost energy from burning fat, and inhibit fat storage.

Good health is not a race, it's a journey. We all want to look and feel our best. Total Weight Off is an all-in-one weight maintenance supplement that supports a healthy appetite and good energy.

Our metabolism is the natural ability to convert food to energy. Great as a pre-workout supplement, Total Weight Off supports your body's ability to plow past plateaus and low-energy bouts to prolong your workout with added intensity and mental focus.

BENEFITS
Supports Healthy Appetite
Energy Support

Product contains Vitamin B3, which may cause a mild skin flush.
Works well in conjunction with Metabolize Burner.
Green Tea Extract supports healthy cholesterol levels, promotes fat burning and helps regulate blood sugarand insulin levels. Green tea contains compounds known as polyphenols and phytochemicals that have powerful anti-oxidants, antibacterial, antiviral and health-enhancing properties.
Galactomannan, a combination of soluble and insoluble fiber from legumes, is important for digestion. These fibers do not dissolve in water, so they pass through the gastrointestinal tract and speed up the passage of food and waste through your gut. Soluble fiber delays the emptying of your stomach and makes you feel full.
Garcinia Cambogia inhibits the body's ability to convert carbohydrates to fats. This leads to an increase in glycogen in the liver, which sends a message to the brain indicating satiety, reducing appetite, improving energy, and increased fat burning.

HIGHEST QUALITY CERTIFICATIONS & FDA INSPECTED FACILITY.

Triple-tested by independent labs for purity of each ingredient.
No fillers, GMP, NSF, Non G.M.O., Gluten Free.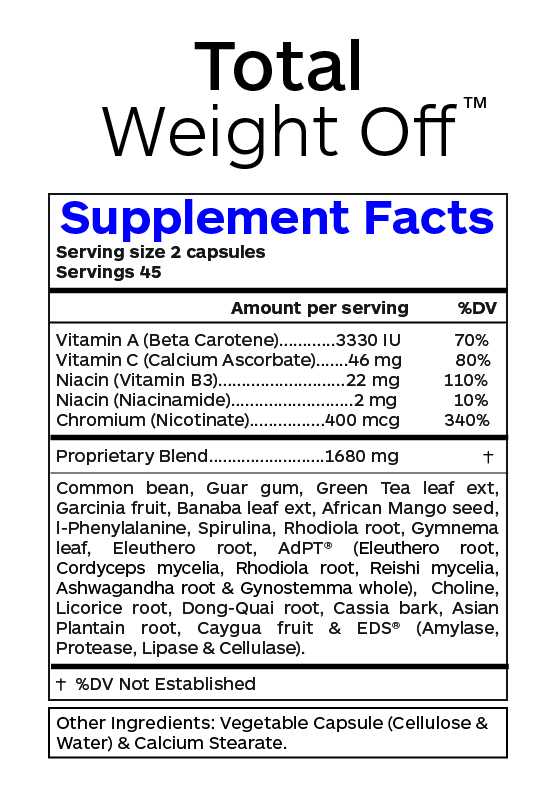 Size: 90 Vegetable Capsules
Suggested Dosage: One to two capsules between meals, or as directed by a Health Care Professional.

Related Products: Metabolize Burner, Lipozymes, pH Balance.

7 tips for successful weight loss:
The desire to lose weight must come from the individual.
Don't blame yourself if you aren't perfect.
Stock your pantry and refrigerator with healthy foods.
Avoid surroundings where you know you're tempted to make poor food choices.
Decide on some nonfood rewards for yourself when you reach interim goals.
Surround yourself with people who support your efforts.
Set small goals and focus on these rather than the "big picture."
EDS®
Added enzymes for better absorption and breakdown. Proprietary Blend Includes: Amylase, Cellulase, Lipase and Protease.
Read more.
AdPT®
Adaptengic herbs for energy production and adaptation. Proprietary Blend Includes: Eleuthero root, Cordyceps mycelia, Rhodiola root, Reishi mycelia, Ashwagandha root & Gynostemma whole.
Read more.

Required FDA disclaimer: These statements have not been evaluated by the Food and Drug Administration. This product is not intended to prevent, treat, cure, mitigate, or diagnose any disease.



Customer Reviews





(0.00)

stars out of 5
Related Products
4 Total Related Products
Sign up for our newsletter!